Happy Tuesday! I hope your long weekend was incredible and you are really excited about the short week ahead. I love a short week, but this one is going to be so full so I am thinking it may feel a little long. That's alright ... lots of coffee, lots of good stuff and lots of happies to share with you today.

We had the best weekend. Just the perfect mix of planned things and nothing at all. Friday night we did nothing at all (my current favorite Friday evening plans) and then Saturday started the day with a trip to the Farmer's Market. It was hot and we got their late, but it was still the best. Millie was exhausted when we got home after her marathon smelling excursionThe kids spent most of Saturday at the pool with all of their friends and we just kept running snacks and drinks up like waiters. It was so fun to see them having a blast. Sunday was a mix of relaxing and some house chores including some pot gardening, which I am super excited about. I love growing herbs and all the mint I can get my hands on. Yesterday we had friends over for lunch and they stayed until late in the afternoon. We sat around chatting on the porch forever and it was ... the best. We all gathered for movies last night and just some down time to end the perfect long weekend. I crossed every single thing off my list this weekend ... read a book, hit the pool, farmers market, after dinner ice cream trip, house chores, have friends over, eat BBQ, sleep in and sneak in a nap (or two). I call this weekend a huge success! 🙌
All the happies this week for you ...
I attended my friend Emily's event at
Draper James
here in Atlanta. Even though the location opened at the Shops at Lenox more than a year ago this was only my second stop in, how sad is that? I adore
Emily Pope Harris
, she is so talented and when she asked me to join her for an in store event I was absolutely thrilled to say yes!! Emily's art work is fabulous and you can see so much of it on her Instagram and in person in darling spots such as the rooftop of The Dewberry in Charleston. Emily and her darling husband, Andrew, are expecting their first baby and they could not be more cute or more excited. It was such a fun way to spend half a Saturday!!
While I was sipping on sweet tea and eating the most delicious coconut mini pie, I spied these
sunnies
and couldn't stop trying them on! I didn't grab them but I did snag
this cookbook
, some darling bookmarks (not on the site) and t
his candle
. It smells so yummy and is currently sitting on my kitchen table. #yesplease
On a side note
... I didn't know that folding down the corners of your pages while you are reading a book is frowned upon until I loaned a few out. From now on I will be using bookmarks!
This swimsuit line,
Albion Swim
, is unlike one that I've seen before. The one-pieces are so chic and we all know I love mixing patterns so these are a #yesplease for me. Below I've linked some more super cute options just in case you're looking for a new one ...
I came across these two lines of clothing that I needed to show the world.
Sonne James
and
AMUR
are so chic, so unique, and so me. Let me know if you snag anything from their sites ... I would love to see what you get!
I'm loving these rubber Birkenstocks for summer time, aren't they so cute? (
here
,
here
, oh and these are the ones I have
here
.)
These
earrings
are super cute! My assistant and I are obsessed.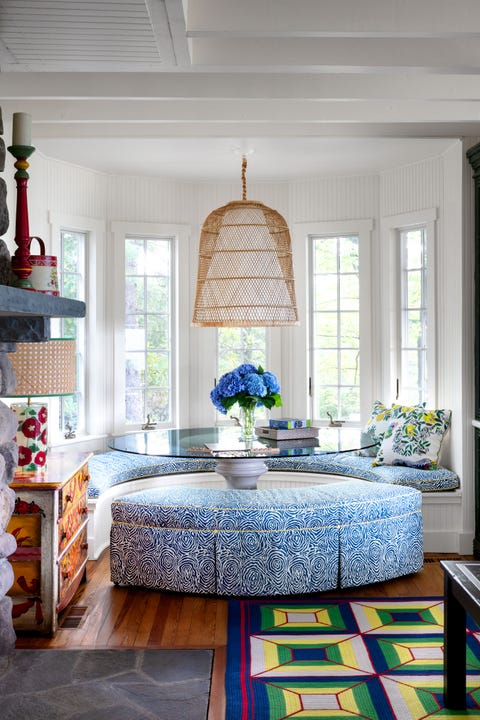 via House Beautiful
This blue and white, wicker, kitchen nook, hydrangea, stunning situation ... I die. I found some similar lamps if you love
here
,
here
, and
here
.
This
dress
is all smiles for me and I would pair it with these
shoes
or these
shoes
.
Pool side essentials ... need towels? How cute are these! need SPF? Also this
little cooler
is so cute!
I gifted
these
to my assistant for her first year away at college because her school has gotten rid of the clear, plastic straws to be environmentally friendly. She says that she received compliments left and right. She used them all the time as she replaced the one in her backpack every day.
Here
are the straw brushes she used to clean them. Ditch the plastic and save the turtles
(as my girl says)
and get some fabulous reusable straws for all!
I saw
this
and thought it would be perfect for a family summer activity. Everyone would pitch in plus it's super chic so it's a win-win!
Image by Kristen Hechler
As we all know, I love pattern play. I found a new little combo for a summer version of my above look. May we please discuss this
top
and
pant
combo!
I love to mix all things pattern related and my go to seems to be a
blue striped shirt
and fun
Lilly shorts.
I seem to either pull on
these sneaks
or my
new Jacks
to add even more pattern. It may be my summer uniform, and I am perfectly ok with it.
I loved
this article
... all the sweet nicknames are so precious!
Y'all enjoy your Tuesday!!