I am still relaxed after a great weekend of doing almost nothing at all. I have been on the go lately and after having a crazy week last week I just really needed to relax. Saturday we laid low and only left the house to hit The Varsity drive thru for their
90th anniversary
. We did wait 2.5 hours for our turn in line but I knew it would be crazy and we decided to make it an adventure. It was so fun to be able to thank the wonderful workers for their incredible dedication and hard work. When we arrived the lines were crazy and I never saw one person complain or greet anyone with anything other than a smile and their usual ... "what'll ya have".
Happy Tuesday! I have the best roundup for you today. Anna Grace wrote most of this post and I am missing her like crazy today, but know she is excited about her move to Liberty! 😘
Here's yet again another
August Morgan
dress that I adore! Everything I have from her I wear on repeat. Each piece is so comfy, so chic, and so me!
I have read reviews on this
Charcoal + Magnesium Deodorant
. It does keeps B.O. away, is a great antiperspirant, and does leave any dark residue behind
my initial concern it being charcoal based
. It is aluminum free and vegan as well.
I saw these
shoes
on someone's feet and we all know I fell in love! And they're on sale ...
These Turkish Rugs are stunners, don't you agree? When this company reached out to become friends I knew they were perfect for sharing with you. I love a company that gives back and
Fouta Colors
is definitely a company you want to add to your radar. Here they are in a nutshell ...
Fouta Colors
is a small, online business that makes organic cotton, hand-knotted towels that combine luxury with everyday practicality and, importantly, give directly back to the local community through our #fouta4fouta charity which benefits Atlanta-based, nonprofit
Helping Mamas
. Our foutas are lightweight, super absorbent, quick drying and can be used for just about anything imaginable ... and we monogram too. While foutas are centuries old (think Turkish baths), our foutas take them to the next level in both quality and design. Fouta Colors' towels are insanely soft, luxurious and utterly practical. While you plan ahead for fall, foutas can be useful beyond the bath, pool or beach. For example, they're the perfect and practical pop of color to decorate a table or bar cart for alfresco dining, a wrap for cooler days (just toss one in your carry-on the next time you travel), a colorful throw for your bed or sofa, or as a perfect picnic blanket. And knowing that our foutas directly help others makes them even more wonderful to use. Through our #fouta4fouta program, we literally give one fouta to Helping Mamas for each one purchased. It's just that simple.
I'm got my haircut last weekend and
this article
was super helpful for inspiration. This is exactly the length I was going for so it was fun to peruse and remind myself why long hair was no longer working for me. My hair is super thick and spending 30 minutes blowing it out was killing my mojo. I am thrilled to have something new and fresh!
This
Chinoiserie Cheetah Pillow cover
is so good!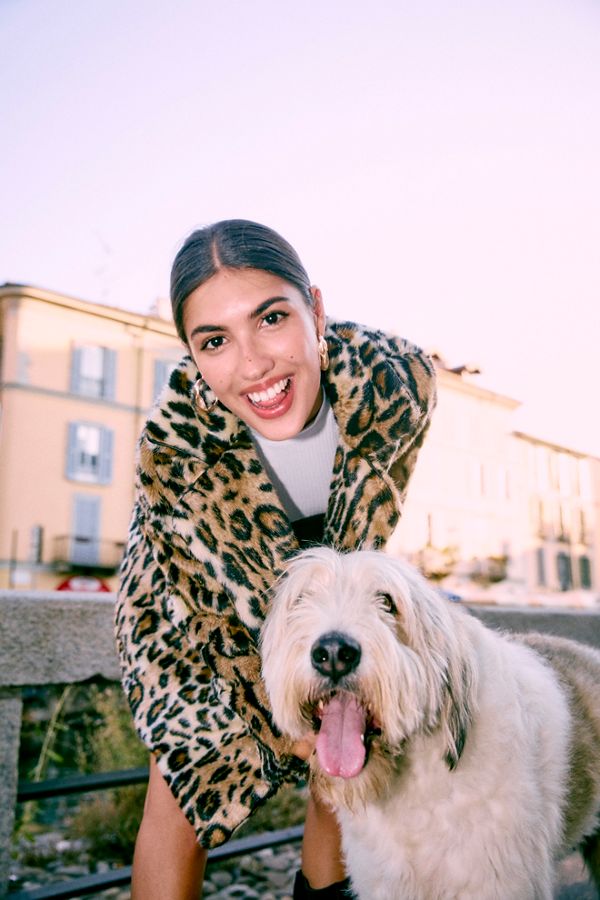 Look at this dog!! Also can't complain about a
leopard coat
... like ever.
My favorite Rosé brand has come out with a
dry rose cider
that is delicious! As it is portable (comes in a can or a bottle), drink it chilled and it's great for a picnic or fun night on the porch!
Another HouseBeautiful
article
has caught my eye ... this
tent
sounds amazing and look how resort chic it is!!
Charlotte Moss has a
new book
I snagged from Ballard's Atlanta and to describe it in three words it is timeless, elegant, and inspiring.
I'm talking about
Beautycounter Dew Skin
again because I am still so in love with it! It is the one product I insist on using every single day after my skin care. It not only moisturizes my skin, protects it from the sun, but also give it a perfect even glow. I would recommend it to every single person!
fanny pack
because I wanted to try out this trend, but my way. Then Anna Grace had to try it and how cute is she!! This bag is so me (and her) and so is
this
one!
I hope your day is amazing ... I am working on painting my office this week, so stay tuned for sneaks!